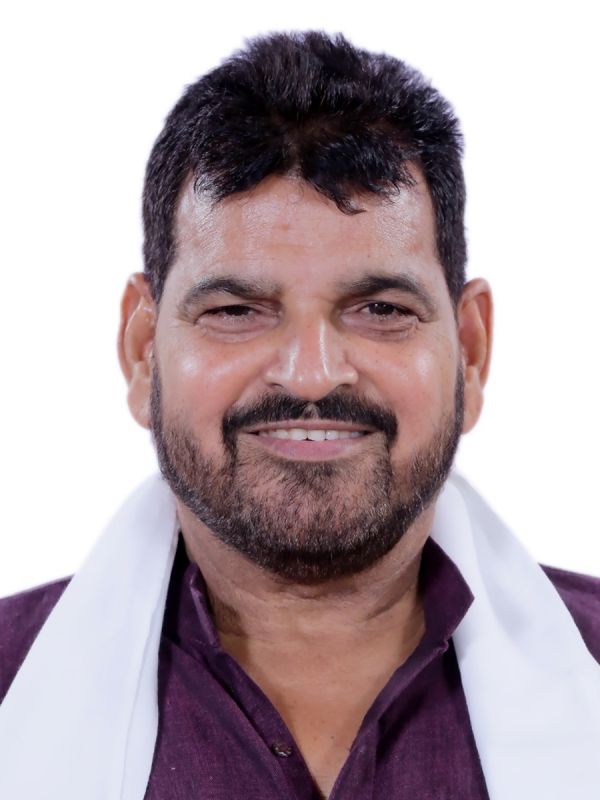 Brij Bhushan Sharan Singh is an Indian politician and wrestler who has been a Member of Parliament six times and has represented the Gonda, Kaiserganj, and Balrampur constituencies on a ticket from the Bharatiya Janata Party. In 2019, he became the President of the Wrestling Federation of India (WFI) for the third time. 
Wiki/Biography
Brij Bhushan Sharan Singh was born on Tuesday, 8 January 1957 (age years; as of 2023) in Bishnoherpur, District Gonda, Uttar Pradesh. He did his schooling up to the 8th standard at Shree Gandhi Vidyalaya Inter College Nawabganj in Gonda, Uttar Pradesh. He earned a master's degree in arts from K.S. Saket P.G. College Ayodhya. In 1985, he graduated with a Bachelor of Legislative Law from Awadh University in Faizabad, Uttar Pradesh.
Physical Appearance
Height (approx.): 5′ 5″
Weight (approx.): 70 kg
Hair Colour: Black
Eye Colour: Black
Body Measurements (approx.): Chest: 52 inches, Waist: 43 inches, Biceps: 20 inches
Family
Parents & Siblings
Brij Bhushan's father's name is Jagdamba Saran Singh (deceased). His mother's name is Pyari Devi Singh. Brij had seven brothers who died.
Wife & Children
On 11 June 1981, he got married to Ketki Devi Singh. Ketki Devi was born on 3 July 1958 in Brijmanganj of Maharajganj district in Uttar Pradesh. She is a politician and a social worker who was elected as Zila Panchayat adhyaksh elected from the Gonda district constituency in Uttar Pradesh on a ticket of the Bhartiya Janta Party.
Brij and Ketki have three sons and a daughter. On 17 June 2004, their elder son Shakti Sharan Singh committed suicide at the age of 23. Reportedly, he shot himself with his father's licensed weapon at his residence in Gonda. Shakti was a management student who used to accompany Brij during the election rallies. The 23-year-old left a suicide note in which he demonstrated how frustrated he was because of his father's apathetic behaviour and wrote,
You have not proved yourself to be a good father. You did not take care of us – my brothers, me, and my sister. When we needed money, you did not oblige. We had to borrow from others. You said I would be your representative, but all you want me to do is attend weddings. I hope after my death you will look after my brothers and sister well."
After his son's death, Brij Bhushan told the media that he had no indication of how his eldest son felt about him and said,
I know I might have hurt my son, but it is not possible for any politician to get his family wherever he is going to give company. What could I have done? I have so many enemies. And there was no trace of the hidden frustration on his face. I was planning to get him married."
His son Karan Bhushan Singh is a member of the Legislative Assembly of Uttar Pradesh and represents Gonda.
Brij Bhushan's younger son's name is Prateek Bhushan Singh. His daughter's name is Devanshi Bhushan Singh.
Other relatives
Brij Bhushan Sharan Singh's grandfather's cousin Shri Chandrabhan Sharan Singh was a freedom fighter. He also had a cousin who was a legislator. Brij's granddaughter's name is Kamakshi Bhushan Singh and his grandson's name is Amarth Bhushan.
Religion
He follows Hinduism and is often seen promoting Hindutva.
Address
Vill. & P.O. Bishnoherpur, Shakti Bhawan, Nawabganj, Distt. Gonda-208002
Career
Politics
Brij Bhushan's career in politics began as a student union leader when he was studying at Saket College in Ayodhya. In the 1980s, he got associated with the Ram Mandir movement in Ayodhya following which he paved his way into politics. He joined the Bharatiya Janata Party in 1988.
Member of Parliament
In 1991, he contested the General elections from the Gonda constituency on a ticket from the Bharatiya Janata Party and was elected to the 10th Lok Sabha after defeating Anand Singh of INC by 1,02,984 votes. In 1999, he was re-elected to the 13th Lok Sabha from the Gonda constituency BJP and in 2004, he was again elected to the 14th Lok Sabha from the Balrampur constituency in Uttar Pradesh state. Later, he resigned from the Bharatiya Janata Party following which he joined the Samajwadi Party on 20 July 2008. In 2009, he was elected to the 15th Lok Sabha from the Kaiserganj constituency in Uttar Pradesh on a ticket from Samajwadi Party. In 2014, he resigned from the Samajwadi Party and rejoined the Bharatiya Janata Party. In 2019, he contested and won the 17th Lok Sabha on a ticket from the BJP.
Wrestling Federation of India
After he earned a coveted spot in politics, he began organising dangals (bouts) and wrestling tournaments in Gonda and nearby cities. He organises junior and national championships for both men and women at his own expense. Since 2012, he has been appointed as the president of the Wrestling Federation of India (WFI) three times.
In 2015, Mr Sharan Singh was awarded the post of Asian Vice President by United Wrestling World, which is a global body of wrestling. He organizes three-day wrestling leagues in which the wrestlers who participate in International tournaments including the Olympics, Commonwealth, and Asian Games also participate. In December 2021, he was made a member of the government's Mission Olympic Cell, which monitors and plans the preparations for the Olympics. In June 2020, Brij Bhushan Sharan Singh was appointed in charge of the 18th Asian Games by the Indian Olympic Association (IOA).
Social Works
Brij Bhushan has established 54 institutions including Nandini Nagar Mahavidyala in Gonda, Eklavya Mahavidyalaya in Bahraich, Savitri Mahavidyalaya Degree College in Faizabad, and Maa Saryu Inter College in Bahraich. These institutions are all located in the state of Uttar Pradesh, and also provide scholarships to underprivileged students. Apart from this, he launched a public awareness campaign "Matra Raksha Rath Yatra" in 1993. He has also organised a movement against the feudal land mafias and facilitated the process of allocation of land on a lease basis to the downtrodden and deserving. He organizes Divisional Talent Search Examination (DTSE) every year with the vision to recognise talented youths of the Devipatan Mandal, Ayodhya, and Burbank.
Controversies
Cases Pending
1 charge related to Voluntarily causing hurt to deter a public servant from his duty (IPC Section-332)
1 charge related to Causing the disappearance of evidence of the offence, or giving false information to screen offender (IPC Section-201)
1 charge related to Punishment for dacoity (IPC Section-395)
1 charge related to an Attempt to murder (IPC Section-307)
Cases where Convicted
1 charge related to False statement on oath or affirmation to public servant or person authorized to administer an oath or affirmation (IPC Section-181)
1 charge related to Illegal payments in connection with an election (IPC Section-171H)
2 charges related to Every member of unlawful assembly guilty of the offence committed in prosecution of common object (IPC Section-149)
1 charge related to Causing grievous hurt by an act endangering the life or personal safety of others (IPC Section-338)
1 charge related to Punishment for Rioting (IPC Section-147)
1 charge related to Rioting, armed with a deadly weapon (IPC Section-148)
1 charge related to Punishment for wrongful restraint (IPC Section-341)
1 charge related to Disobedience to order duly promulgated by a public servant (IPC Section-188)
Accused of sexual harassment 
On 18 January 2023, the Wrestling Federation of India (WFI) president Brij Bhushan faced several allegations of sexually exploiting women wrestlers for more than a decade. Several athletes including Vinesh Phogat, Bajrang Punia, Sakshi Malik, Sarita Romit Singh, Sangeeta Phogat, Sakshi Malik, Jitender Kinha, and Sumit Malik were present in the protest rally at Jantar Mantar in New Delhi and urged the Government of India to remove him from the position. During the protest, India's only double World Championship medallist, Vinesh Phogat, said,
Women wrestlers have been sexually harassed at national camps by coaches and also the WFI president Brij Bhushan Sharan. Some of the coaches appointed at national camps have been sexually harassing women wrestlers for years. The WFI president is also involved in sexual harassment."
The wrestlers demanded the resignation of Brij Bushan and insisted the government dissolve the national wrestling body following which the Sports Ministry asked him to resign as president of the WFI within 24 hours on 19 January 2023. After hearing this, Brij Bhushan denied the allegations and said that he was "willing to be hanged" if even one of these allegations was found true and also said,
There is no truth in any of the allegations. Why should I quit? Even if one woman wrestler comes and proves the sexual harassment charge, I am ready to be hanged. There is an industrialist behind it (conspiracy). There can be an investigation by the CBI or police. There is no dictatorship. These same wrestlers had met me a week back and did not say anything."
Opposing Raj Thackeray's Ayodhya visit 
In May 2022, Brij Bhushan Sharan Singh made headlines when he opposed Indian politician Raj Thackeray's proposed visit to Ayodhya in June 2022. According to Bhushan, Raj Thackeray owed a public apology for the 2008 incident when Thackeray's workers physically assaulted and humiliated North Indians and forced them to leave Mumbai. Brij Bhushan declared that Thackeray will not be allowed to enter the city till he tenders a public apology and said,
I will not allow Raj Thackeray, who humiliates North Indians, to enter Ayodhya. Before coming to Ayodhya, Raj Thackeray must apologise to all North Indians with folded hands. Unless Raj Thackeray publicly apologises, I request Chief Minister Shri Yogi Adityanath that he should not meet Raj Thackeray. RSS, VHP, and the common man played a role in the Ram temple movement. The Thackeray family has nothing to do with it."
Controversial statements on Indian leaders
In 2022, Brij Bhushan asserted that Samajwadi Party leader Rizwan Khan and former Member of the Legislative Council Mahfuz Khan were also Hindus and according to him, Arvind Kejriwal is very clever, sly, and crazy. In an interview, while talking about Yogi Adityanath, Brij Bhushan said that he is the child of Lord Ram only and his intelligence is slowly recovering. He further alleged AIMIM President Asaduddin Owaisi's forefathers were Hindus and said,
I guarantee that Owaisi Baba's father's name was Tulsiram Das. I tell him with a guarantee that he was a Hindu."
Harbouring henchmen of Dawood Ibrahim
In the mid-90s, Brij Bhushan was arrested after a case was registered against him under the Terrorist and Disruptive Activities (TADA) for being associated with Dawood Ibrahim and harbouring his associates; Subhash Singh Thakur, Jayendra Thakur alias Bhai Thakur, Paresh Desai, and Shyam Kishore Garikapatti. Reportedly, Bhushan also provided them with his personal phone to communicate with Dawood. Following his arrest, he spent several months in Tihar jail.
Plead NOT Guilty for a murder case
In 2022, Singh and three of his associates were acquitted from a 29-year-old case in which they were accused of attempting to murder former Uttar Pradesh minister Vinod Kumar Singh on 24 December 1993. Reportedly, they made an open fire on Vinod Kumar outside his house in Nawabganj, Uttar Pradesh. A charge sheet was filed against Brij Bhushan, Devdutt Singh, Gyan Singh, and Deep Narayan Yadav; however, due to the lack of evidence, the accused were acquitted. During the prosecution, the judge remarked that despite Brij Bhushan Sharan Singh's submission that he was in Delhi at the time of the attack, no effort was made to verify it, which made the whole discussion seriously suspicious following which Bhushan defended himself and said that the case was filed by one of his political rivals.
Car Collection
As of 2019, he owned a Ford Endeavour (2008) and Mahindra Scorpio (2007).
Assets & Properties
Movable Assets
Bank Deposits: Rs. 87,52,817
Bonds & Company Shares: Rs. 11,48,000
Motor Vehicles: Rs. 16,00,000
LIC/Other Insurance Policies: Rs. 24,95,500
Other Assets (Pistol, Rifle, and Ripiter): Rs. 16,00,000
Immovable Assets
Agricultural Land: Rs. 25,00,000
Non-Agricultural Land: Rs. 25,00,000
Residential Buildings: Rs. 1,93,89,470
Note: The given estimates of movable and immovable assets are according to the year 2019. It excludes the assets owned by his wife and dependents (minor).
Net Worth
As of 2019, Brij Bhushan Sharan Singh's net worth is estimated to be Rs. 2,81,76,896. It excludes the net worth of his wife and dependents (minors).
Facts/Trivia
Since his school days, he has been a wrestler. In many interviews, he has called himself "shaktishali," which means powerful, and has spent much of his youth in the wrestling grounds of Ayodhya.
Brij Bhushan Sharan Singh calls himself an amateur musician.
Apart from this, he likes to write and maintains a fondness for literature.
Brij Bhushan promotes fitness and wrestling. In his leisure time, he indulges himself in several sports activities such as playing badminton.
He is very particular about his fitness and follows a strict workout regimen.