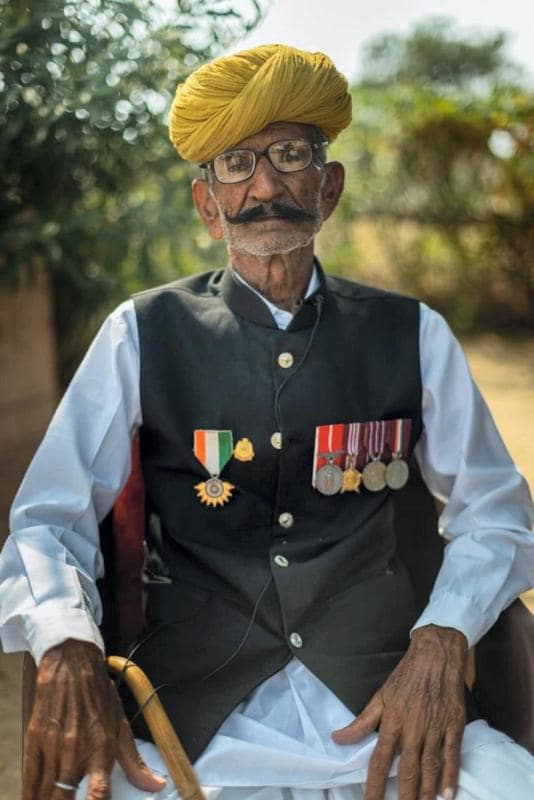 Bhairon Singh (1941-2022) was a retired Border Security Force (BSF) personnel. He is known to have participated in the Battle of Longewala during the 1971 Indo-Pakistan War. In the 1997 Hindi film Border, Suniel Shetty portrayed him. He died on 19 December 2022 in Jodhpur, Rajasthan.
Wiki/Biography
Bhairon Singh Rathore was born in 1941 (age 81 years; at the time of death) in Solankiya Tala village, Shergarh district, Princely State of Jodhpur, British India (now Jodhpur, Rajasthan, India). After completing his formal education, Bhairon Singh joined the Border Security Force (BSF) in 1963.
Family
Parents & Siblings
Not much information is available about his parents and siblings.
Wife & Children
His wife's name is Prem Kanwar (deceased). He got married to her in 1973. He is survived by a son and a daughter. His son's name is Sawai Singh.
Religion
Bhairon Singh followed Hinduism.
Caste
Bhairon Singh Rathore was a Rajput.
Career
In 1971, as a Lance Naik, Bhairon Singh was deployed at a post in Longewala, Rajasthan. There, he was a part of the 14th Battalion's 3rd platoon's Delta Company. Before the beginning of the 1971 Indo-Pakistan War, his battalion was replaced by 120 men of the Alpha Company of the 23rd Battalion of the Punjab Regiment commanded by Major (later Brigadier) Kuldip Singh Chandpuri. Since Bhairon Singh had detailed knowledge of the area, he was ordered to stay with the army company to conduct patrols. On the night of 4 December 1971, Bhairon Singh's post at Longewala was attacked by a superior Pakistani force. According to the official records of the BSF, after a Light Machine Gunner of 23 Punjab was killed, Bhairon Singh took over the LMG and kept on firing at the enemy for 6 to 7 hours and inflicted heavy casualties on the enemy. The official record states,
When one of the 23 Punjab boys was killed in action, Lance Naik Bhairon Singh took his light machine gun and inflicted heavy casualties on the advancing enemy. It was only their courage and sheer determination to do or die that won the day and Lance Naik Bhairon Singh became a great source of inspiration to his other comrades on the post."
He played a vital role in denying access to the Pakistani forces into Rajasthan. The war at Longewala ended on the morning of 5 December 1971 when the Indian Air Force (IAF) sent its Hunter jets which attacked the Pakistani armoured vehicles. Bhairon Singh continued to serve in the BSF till his retirement from the rank of Naik in 1987.
Awards
Bhairon Singh was awarded Sena Medal for gallantry by the Government of India in 1972.
Pension
As of December 2020, his pension was Rs 12,500.
Assets/Properties
Bhairon Singh owned approximately 15.6 acres of agricultural land.
Death
On 19 December 2022, Bhairon Singh breathed his last at AIIMS hospital in Jodhpur, Rajasthan. According to his son, Bhairon was admitted to the hospital on 14 December 2022 after he suffered from a paralytic attack and later died after he suffered a brain stroke. After his death, many known personalities like Home Minister Amit Shah, Prime Minister Narendra Modi, Suniel Shetty, and many more expressed their condolences. Following his death, his body was taken for a wreath-laying ceremony at the Subsidiary Traning Center (STC) in Jodhpur, Rajasthan. He was cremated on 20 December 2022 with full military honours.
Facts/Trivia
During an interview, Bhairon Singh said that he was not satisfied with the 1997 Bollywood film Border due to factual misrepresentation in the film. He, however, said that the scene in which Suneil Shetty rushes to get the Quran out of a burning building was correct.
Even after turning 80, Bhairon Singh used to get up early in the morning to practice Yoga.