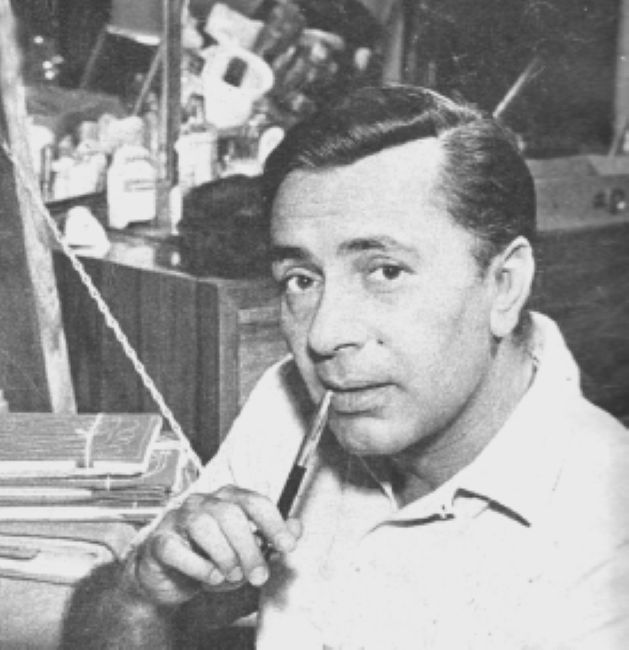 Balraj Sahni (1913-1973) was a famous Indian film actor and writer known for working in films such as Dharti ke Lal (1946), Hum Log (1951), Do Bigha Zameen (1953), Sutta Bazaar (1959), Kabuliwala (1961), Neel Kamal (1968), Do Raaste (1969), and Garam Hawa (1973). Balraj Sahni passed away at the age of 59 on 13 April 1973 after suffering from a heart attack.
Wiki/Biography
Balraj Sahni was born Yudhishthir Sahni on Thursday, 1 May 1913 (age 59; at the time of his death) in Rawalpindi, Punjab, British India (present day Pakistan). His zodiac sign is Taurus. In the beginning, he started his schooling from Arya Samaj Gurukul. But later got admitted to D.A.V. after protesting to his father about the poor education in Gurukul. He studied M.A. in English from the Government College University, Lahore. He was also an alumnus of Government Gordon College, Rawalpindi. He had a bachelor's degree in Hindi.
Physical Appearance
Height (approx.): 5′ 10″
Hair Colour: White
Eye Colour: Black

Family
Balraj Sahni was born in a family of Arya Samaj followers.
Parents & Siblings
Balraj Sahni's father's name was Harbans Lal Sahni. He was an import businessman. Balraj Sahni's mother, Lakshmi Devi was a homemaker.
Balraj Sahni had a brother, Bhisham Sahni, who was a famous writer, playwright, and actor.
Wife & Children
Balraj Sahni married twice. His first wife, Damayanti Sahni was an actress and a social activist. Unfortunately, she passed away in 1947 at a young age of 28.
After the passing away of his first wife, Balraj Sahni married his second cousin, Santosh Chandhok, a writer in 1949.
Balraj Sahni had 3 kids, Parikshit Sahni, a famous Bollywood actor, and Shabnam Sahni from Damayanti. He became the father of Sanober from Santosh.
Religion/Religious Views
Although he was born into a family that staunchly followed Arya Samaj, Balraj Sahni was not very much into religion. His son, Parikshit Sahni discussed his views on religion in an interview and said,
He was averse to religion. In his book, Mera Drishitikon, he urged readers to be wary of padres, pundits and mullahs. They are the ones causing wars in the world he wrote."
Signature/Autograph
Career
In 1934, after completing the master's degree, Balraj Sahni started working in his father's import business. In 1937, he went to Lahore and ventured into journalism for a short while and published a newspaper called 'Monday Morning'. This turned out to be a terrible mistake and he soon went to Kolkata with his wife Damyanti. He would often write short stories after completing his master's degree. In Kolkata, he started to write more frequently. His brother Bhisham Sahni wrote about his activities in Kolkata in his book, 'Balraj My Brother',
He began contributing humorous pieces to a pictorial weekly, called Sachitra Bharat, from which he earned exactly four rupees per article. His interesting children's tale, 'Dhapor Shankh', was written in those days."
The money from writing wasn't enough and the couple then moved to Santiniketan where Mahatma Gandhi and Rabindranath Tagore lived and became a Hindi teacher. In 1939, with the blessings of Gandhiji, he left for England and became a Hindi broadcaster for the BBC. He returned to India in 1943 and soon joined the IPTA (Indian People's Theatre Association) and started working in plays. In 1946, he started working in films.
Films
Baraj Sahni has appeared in multiple Hindi films. He has starred in an Assamese film titled 'Era Bator Sur' (1956).
He has also starred in two Punjabi language films, 'Satluj De Kandhe' (1964), which won the National Film Award for Best Feature Film in Punjabi language and a blockbuster hit film 'Nanak Dukhiya Sab Sansar' (1970).
Hindi Films
In 1946, he had a minor role in the movie 'Insaf'. In the same year, he also worked on 'Door Chalen', 'Badnami', and 'Dharti Ke Lal'. Dharti Ke Lal was very well received among critics all over the world due to its intense and realistic portrayal of famine-struck Bengal.
In 1951, he starred in 'Hum Log' as Raj, which received positive reviews from critics. In the same year, he also starred in 'Hulchul' as Jailor. Ironically, he was jailed in real life due to communist activities and was given to come out only for the shooting scenes and would have to return to jail after the shoot.
The breakthrough role of Balraj Sahni's career came in 1953 when he played Shambhu Maheto in 'Do Bigha Zameen'. It was the first film to win the Filmfare Award for Best Film and was also the first Indian film to win Prix Internationale at the Cannes Film Festival. To prepare for his role, he learned to pull the rickshaw at the Rickshawallas' Union. On the set of the film, he met a rickshaw puller whose story was similar to the protagonist of the film. The incident filled him with confidence and zeal that helped him to get into the role. He wrote about the incident in his autobiography,
As I sat there in my rick-shaw, forlorn and dejected, a middle-aged ricksha-wallah approached me. He had been watching our tamasha from a distance. Except for his poor health, he might have been one of those Jogeshwari Bhayyas. His sickly, pockmarked face showed a greyish growth of several days, and he had yellow protruding teeth. He wanted to know what all the fuss was about. I told him we were shooting a film.

'You acting in that film?'

'Yes.'

'As what?'

I felt, if I talked to the fellow, it would distract my mind and help me come out of my gloomy mood. I began telling him the story of the film, the way Hrishikesh Mukherji had told me earlier. It was now his turn to be reduced to tears. His tears were, however, more 'genuine' than mine, in that it was his own life-story he was listening to! He too had do bigha zamin in a Bihar village, which had lain mortgaged to a zamindar for fifteen years. All those years, he had been pulling a rickshaw in the streets of Calcutta, looking forward to the day when he would save enough money to get his land back. But now he had given up all hope of ever seeing his land again. After having recounted to me these details of his life, he sighed deeply and, as he walked away, said, 'Yeh to meri kahani hai babu, yeh to meri kahani hai! Those simple words touched a cord deep inside me. The theory of acting be damned and to hell with Sisir Bhaduri and Dilip Kumar. The very peasant down-and-out, miserable and meek, whose life I was supposed to portray on the screen had appeared from nowhere, and stood before me in flesh and blood. This was a chance of a life-time, for which I should thank my stars. In a flash, I saw this role as a challenge to my acting ability, a responsibility which I had to fulfil by exerting myself to the utmost. Come what may, I must not shirk it. That would be only cowardice, a sin, I told myself."

 
In 1954, Balraj Sahni starred in 'Bazooband' as Surajmal. In the same year, he also starred in another memorable film 'Aulaad'. His son, Parikshit Sahni once accompanied him on the sets of Aulaad where he got to witness the dedication of his father to his craft first-hand. He recalled the incident in an interview and said,
Once I had accompanied him for the shooting of Aulad (1954). The scene had Dad holding the gates of his master's house and begging for his child, "Malik mujhe mera bachcha toh de do!" The scene done, everyone clapped and pack-up was announced. On the way back in the car, Dad said he wasn't happy with the shot. He drove back and told director Mohan Segal that he wanted a retake. Mohanji felt it wasn't required. Dad issued an ultimatum that if he didn't allow him to do so, he wouldn't report for shooting. The studio was reopened. The lights were set up again. Dad gave the retake. But this time no one clapped. Because they were all crying. It was that brilliant a shot. Later, Dad explained, "I wanted to feel the shot. I wanted to relive what I felt when your mother died."
In 1955, he starred in 'Tangewali' as Laxman. In the same year, he starred in 'Seema' as Ashok 'Babuji' and 'Garam Coat' as Girdharilal "Girdhari".
In 1957, he starred in 'Pardesi' as Sakharam. It was an Indo-Soviet co-production directed by Indian director Khwaja Ahmad Abbas and Russian director Vasili Pronin. In the same year, he starred in the comedy 'Mai Baap' as Chandan.
In 1958, he starred in 'Lajwanti' as Nirmal Kumar along with Nargis in the lead. The film won the National Film Award for Best Feature Film in Hindi. In 1958, he starred in 'Ghar Sansar' as Kailash. In 1959, he starred in 'Chand' as Mr. Kapoor. In the same year, he starred in 'Chhoti Bahen' as Rajendra.
In 1960, he starred in 'Dil Bhi Tera Hum Bhi Tere' as Panchu Dada. In the same year, he also starred in two other films, 'Bindya' as Devraj and 'Anuradha' as Dr. Nirmal Chaudhary. In 1961, he starred in 'Bhabhi Ki Chudiyan' as Shyam. He also starred in a critically acclaimed 'Kabuliwala' as Abdul Rehman Khan in the same year.
In 1962, he starred in 'Shaadi' as Ratan and 'Anpadh' as Chaudhary Shambhunath. In 1964, he starred in 'Haqeeqat' as Major Ranjit Singh. In 1965, he had a cameo in 'Dak Ghar' as Andhe Baba/Fakir. In the same year, he starred in a critically acclaimed film 'Waqt' as Lala Kedarnath Prasanta. He has forever immortalised the song 'Ae Meri Zohrajabeen' of the movie with his brilliant performance.
In 1968, he played the role of Mr. Raichand in 'Neel Kamal'. In the same year, he starred in 'Sunghursh' as Ganeshi Prasad. In 1969, he starred in the blockbuster film 'Ek Phool Do Mali' as Kailashnath Kaushal and was nominated for the Filmfare Best Supporting Actor Award. In 1970, he starred in 'Ghar Ghar Ki Kahani' as Shankarnath.
In 1973, he starred in 'Garam Hawa' as Salim Mirza. The film won the Nargis Dutt Award for Best Feature Film on National Integration along with three Filmfare Awards. In 1977, he starred in 'Amaanat' as Suresh.