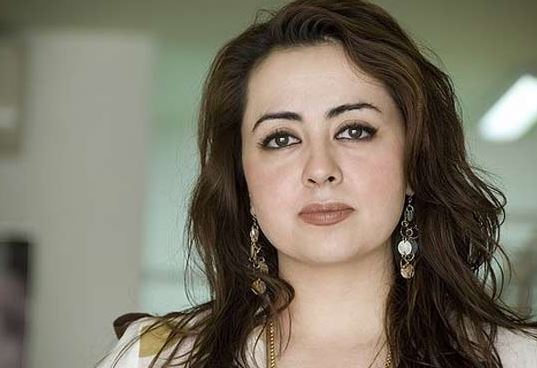 Ayla Malik is a Pakistani journalist and politician, who was once associated with the Pakistan Tehreek-e-Insaf. From 2002 to 2007, she served as a Member of the National Assembly of Pakistan on a reserved seat for women. Apparently, she was the mistress of the Pakistani politician and former cricketer Imran Khan. In December 2022, multiple audios were leaked on social media in which Imran Khan was allegedly heard talking obscenely with a woman, supposedly Ayla Malik.
Wiki/Biography
Ayla Malik was born on Tuesday, 6 October 1970 (age 52 years; as of 2022) in Mianwali, Pakistan. Her zodiac sign is Libra. Ayla belongs to a family with a political background. Her hometown is Kalabagh, Mianwali, Pakistan. Ayla did her schooling at Froebel's International School in Islamabad. According to Ayla, she obtained a Higher Secondary School Certificate (HSSC) from the Rawalpindi Board of Intermediate and Secondary Education (BISE) and later pursued a degree in Economics from Moscow State University of the Russian Federation. However, her degrees were declared to be fake by the Lahore High Court's election tribunal bench in 2013. Before joining politics, Ayla was a national-level badminton player.
Physical Appearance
Height (approx.): 5′ 7″
Hair Colour: Brown
Eye Colour: Brown
Family
Ayla Malik belongs to a Qutab-shahi Awan family.
Parents & Siblings
Ayla Malik's father, Malik Allahyar Khan, was a politician. Her sister Sumaira Malik is also a politician. Sumaira was a Member of the National Assembly of Pakistan from 2002 to 2013. She also has a sister, who is married to one of the sons of her maternal uncle Farooq Ahmed Khan Leghari.
Husband & Children
Ayla was married to the Pakistani politician Sardar Yar Muhammad Rind. The couple apparently got divorced a few years after their marriage as Yar Muhammad wanted to keep Ayla confined to the four walls of his house. Together, they have two children. Ayla's daughter Myra Malik is married to Amir Malik, a politician.
Other Relatives
Ayla Malik is the granddaughter of the Nawab of Kalabagh, Malik Amir Mohammad Khan. Notorious for his brutality in his heydays, Amir Mohammad Khan served as the Governor of West Pakistan in the 1960s. He was killed by his son Asadullah Khan on 26 November 1967 over a family property dispute.
Ayla Malik is the niece of Pakistan's former President Sardar Farooq Ahmed Khan Leghari.
Affair/Boyfriend
Ayla is rumoured to be in a relationship with Imran Khan for a long time. In 2009, Imran also appeared on Ayla's talk show. Ayla was so fond of Imran during that time that she called him the hero of Pakistan during one of the events. Reportedly, Imran Khan's ex-wife Reham Khan in her book also talked about Imran's relationship with Ayla Malik.
Career
Journalism
Ayla Malik started her career as a journalist with Dunya News. In 2009, Malik anchored the talk program named Situation Room with Ayla Malik on Dunya News, where she interviewed many prominent personalities of Pakistan including Imran Khan.
Politics
Ayla Malik began her political journey in 1998 by becoming a member of the Millat Party led by her maternal uncle Sardar Farooq Ahmed Khan Leghari. Subsequently, she served as the Deputy Secretary General of the Millat Party. In 2002, Malik was elected as a Member of the National Assembly (MNA) on a ticket of the National Alliance of Pakistan. She served as an MNA till 2007. In January 2011, after a detailed meeting with Pakistan Tehreek-e-Insaaf (PTI) Chairman Imran Khan, Ayla joined PTI. Subsequently, she led the social media cell of the party.
She was on the party's top list for a reserved seat in the National Assembly of Pakistan. However, PTI failed to win enough seats to nominate her to the Parliament. In 2013, Imran khan decided to field Ayla from the Mianwali seat in the by-elections; he himself decided to contest the elections from the Rawalpindi seat. However, she was disqualified by a two-member Election Tribunal (ET) of the Lahore High Court due to fake degrees. In 2017, Ayla parted ways from Pakistan Tehreek-e-Insaaf (PTI), saying that the party was no longer pursuing the policies of public welfare.
Controversies
Fake Degrees
On 30 July 2013, a two-member Election Tribunal set up by the Lahore High Court (LHC) disqualified Ayla malik from the 2013 by-elections for submitting her fake degrees before the Election Commission of Pakistan (CEC). The petition was filed by Pakistan Muslim League's Obaidullah Shadikhel and the cousin of Imran Khan Inamullah Niazi.
Leaked Audio
In 2022, multiple old phone call recordings of the Pakistani politician Imran Khan, indicating his sexual relations with Ayla Malik, went viral on social media. In the leaked audios, Imran Khan can be heard having an inappropriate conversation with a woman, who is supposed to be Ayla. However, Imran Khan's political party Tehreek-e-Insaf denied the news and claimed that the audio tapes were fake and fabricated. Ayla, who was believed to be the woman on the other end, also denied to the news and said that the voice was not hers.
Facts/Trivia
Ayla is well-versed in three languages- English, Urdu, and Punjabi.
Apparently, Ayla Malik was born in the same bungalow in Kalabagh, Mianwali, where her grandfather was killed by her uncle Asadullah Khan.
Reportedly, Ayla was considered a defaulter in Rs. 40 million loan case from Zarai Taraqiati Bank Limited in 2013.
In 2013, Imran Khan's party PTI was investigated for receiving foreign funding which is forbidden for political parties in Pakistan. According to the documents submitted by the investigating team in the court, Ayla malik had received Rs. 70 lakhs from party funds for no explicable reason. Later, after the inappropriate audio leak of Imran Khan and Ayla Malik, many media houses said that the money was given to Ayla by Imran in exchange for sexual favours.
On 10 May 2013, some unidentified gunmen attacked her election convoy in Mianwali in which she got injured. Ayla did not step back, instead opened fire at the gunmen.
A taekwondo karate expert and an avid hunter, Ayla has participated in several national-level shooting championships and won several medals.