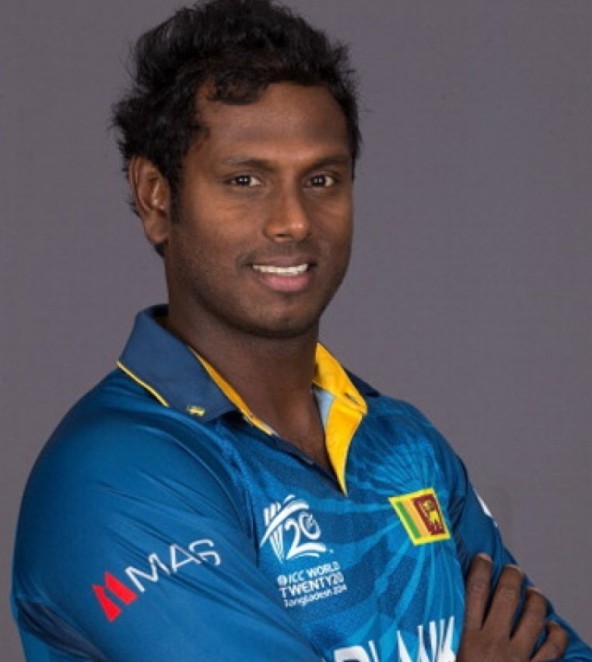 Angelo Mathews is a Sri Lankan cricketer who has played in many international tournaments for them. He was a member of the Sri Lankan cricket team which won the 2014 T20 World Cup. He is the first cricketer to be dismissed by a time-out in international cricket.
Wiki/Biography
Angelo Davis Mathews was born on Tuesday, 2 June 1987 (age 36 years; as of 2023) in Colombo, Sri Lanka. His zodiac sign is Gemini. He did his schooling at St. Joseph's College, Colombo. He was interested in cricket and athletics during his early school days and even participated in provincial and national level tournaments in hurdles and 100-metre events; however, the practice sessions of both sports later started clashing, and since his family loved cricket, he started his journey to become a professional cricketer. His first coach was Kapila Manohara, and he later trained under Jerome Jayaratne.
Physical Appearance
Height (approx.): 6′ 0″
Weight (approx.): 85 kg
Hair Colour: Black
Eye Colour: Black
Body Measurements (approx.): Chest 44″, Waist 32″, Biceps 14″
Family
Parents & Siblings
His father, Tyronne Mathews, is a cricket coach, and his mother, Monica Mathews, is a homemaker. He has an elder brother named Trevin Suresh Mathews, a former domestic cricketer, and a younger sister named Melinda Mathew who is married to Dharshan Selvam.
Wife & Children
He got married to his long-time girlfriend Heshani Silva, at St. Mary's Church in Bambalapitiya on 18 July 2013. Their wedding ceremony was held on the same day at the Cinnamon Grand Hotel in Colombo and was attended by then Sri Lankan president Mahinda Rajapaksa and Defence Secretary Gotabaya Rajapaksa. The couple has four children with the eldest being a boy named Angelo Durant Mathews and three younger daughters.
Other Relatives
Angelo Mathews' father-in-law (Heshanie's father), Prasanna Silva, is an architect, and his mother-in-law (Heshanie's mother), Shyama De Silva, is a homemaker. He has two sisters-in-law named Prashani De Silva who lives in the USA and Shenali De Silva who is an IT professional.
Relationships/Affairs
Angelo and Heshani have known each other since their childhood when she studied at St. Bridget's Convent, Colombo. Heshani also played badminton and often went to competitions where they regularly met. They dated each other for six and a half years before their marriage.
Religion
He follows Christianity and is a Roman Catholic.
Ethnicity
According to one source, he has Tamil origin from his father's side, and Burgher origin from his mother's side. As per another source, he has Burgher roots from his father's side, and Sinhalese roots from his mother's side.
Signature
Career
Domestic
Angelo Mathews started playing cricket for the Under-13 team of St. Joseph's College and later played for the Under-15, Under-16, Under-17, and Under-19 teams.
He made his first-class debut on 10 November 2006 for Colts Cricket Club and his T20 debut on 28 February 2007 for the same club. He played for Basnahira North in the 2008-09 season, Combined Provinces in 2011, Sri Lanka Board XI from 2011 to 2014, Kandy District and Dambulla District in 2018, and Galle District in the 2021-22 and 2022-23 seasons.
He has also played for the Club Cricket Conference President's XI and Club Cricket Conference in 2006, Sri Lanka Cricket Academy and Sri Lanka Cricket XI in 2007, Sri Lankans and Darren Lehmann Cricket Academy in 2010, Sri Lanka Board XI and Sri Lanka Board President's XI in 2018.
International
Sri Lanka Under-15, Under-17, Under-19, Under-23, and A
He played for Sri Lanka Under-15 in the 2002-03 season, the Under-17 team in the 2003-04 season, the Under-19 team from the 2003-04 to 2005-06 seasons and also captained the Under-19 team in the 2006 Under-19 World Cup. He represented Sri Lanka Under-23 in the 2005-06 season and played his maiden List A (one-day) match on 16 September 2005 and for Sri Lanka A in the 2008-09 season.
Test
Angelo Mathews made his test debut on 4 July 2009 against Pakistan at Galle International Stadium, Galle, Sri Lanka and made 42 runs and took 1 wicket for 26 runs in the first innings and scored 27 runs and claimed 1 wicket for 13 runs in the second innings. He made his first test fifty in July 2009 with a score of 64 runs not out against Pakistan.
His first test century came against Australia in September 2011 with a score of 105 runs not out. In January 2020, he scored his maiden double-century with 200 runs not out against Zimbabwe. He played his 100th test match in July 2022 against Pakistan.
ODI
He made his ODI debut on 28 November 2008 against Zimbabwe at Harare Sports Club, Harare, Zimbabwe and got out for a duck and went wicketless for 24 runs. On 12 January 2009, he made his first ODI half-century with 52 runs not out against Zimbabwe.
He took his first 5-wicket haul on 12 September 2009 by taking 6 wickets for 20 runs against India. He made his first ODI hundred on 16 November 2014 by scoring 139 runs not out against India and scored 2 wickets for 33 runs.
ODI World Cups
He played 8 matches in the 2011 ODI World Cup held in India and scored 94 runs at an average of 31.33 and a strike rate of 104.44 and took 6 wickets. In the 2015 ODI World Cup held in Australia, he scored 195 runs in 7 matches at an average of 39 and a strike rate of 89.86 and claimed 6 wickets.
He made 244 runs in 7 matches in the 2019 ODI World Cup, held in England, at an average of 40.67 and a strike rate of 77.71 and took 1 wicket. In the 2023 ODI World Cup held in India, he made 51 runs in 5 matches at an average of 12.75 and a strike rate of 65.38 and claimed 6 wickets.
T20I
Angelo Mathews played his debut T20I match on 8 June 2009 against Australia at Trent Bridge, Nottingham, England and took 1 wicket for 10 runs. On 10 January 2016, he made 81 runs not out against New Zealand.
T20I World Cups
In the 2009 T20I World Cup held in England, he made 75 runs in 7 matches at an average of 75 and a strike rate of 153.06 and took 5 wickets. He made 119 runs in 6 matches in the 2010 ODI World Cup, held in West Indies, at an average of 23.80 and a strike rate of 121.43 and claimed 3 wickets. In the 2012 T20I World Cup held in Sri Lanka, he made 51 runs in 7 matches at an average of 25.50 and a strike rate of 124.39 and took 4 wickets.
Angelo Mathews helped Sri Lanka win their first T20I World Cup in 2014, held in Bangladesh; he made 100 runs in 6 matches at an average of 33.33 and a strike rate of 142.86 and took 5 wickets. He played 3 matches in the 2016 T20I World Cup held in India and scored 114 runs at an average of 114 and a strike rate of 118.75 and claimed 1 wicket as well.
Captaincy
In October 2012, he was appointed as the T20 captain of Sri Lanka for the first time and was given captaincy of ODI and test teams in February 2013. He quit as the captain in July 2017. He served as the captain of the T20 and ODI Sri Lankan teams from January 2018 to September 2018.
Jersey Number
He wears jersey number 69 for Sri Lanka during the international matches.
Leagues
Middlesex Premier Cricket League
Angelo Mathews played for Stanmore in the 2006 season of Middlesex Premier Cricket League.
Indian Premier League (IPL)
He played for Kolkata Knight Riders (KKR) in the 2009 and 2010 IPL seasons, for Pune Warriors in the 2012 and 2013 seasons, and for Delhi Daredevils in the 2015 and 2017 IPL seasons.
Sri Lanka Premier League
He captained Nagenahira Nagas in the 2012 season of Sri Lanka Premier League, its only season before it was dissolved.
Dhaka Premier Division Cricket League (DPL)
He played for Brothers Union during the 2013-14 DPL season.
Abu Dhabi T10 League
He played for Delhi Bulls in the 2019-20 season of Abu Dhabi T10 League. He was acquired by Northern Warriors for the 2023 season.
Lanka Premier League (LPL)
Angelo Mathews played for Colombo Kings in the maiden LPL season in 2020, later for Colombo Stars in the 2022 season, and B-Love Kandy in the 2023 LPL season. In the final of the 2023 LPL season, he led B-Love Kandy to their first title win by scoring 25 runs not out in 21 balls.
Records
Became Sri Lanka's youngest-ever Test captain (At the age of 25 years in February 2013)
Partnered with Lasith Malinga to make the highest ninth-wicket partnership in ODIs (132 runs against Australia on 3 November 2010)
First cricketer to be dismissed by timed out (on 6 November 2023 against Bangladesh)
Most test sixes for a Sri Lankan cricketer (81 sixes as of November 2023)
Fastest fifty by a Sri Lankan player in the ODI World Cup (In 20 balls against Scotland in the 2015 ODI World Cup)
Controversies
Declining central contract
In July 2021, he declined to sign the central contract with the Sri Lanka Cricket (SLC) Board as he was previously dropped from the ODI team despite giving good performances. He later informed the board that he was considering retirement from international cricket due to the management's decision to drop him.
Out by timed out 
During the match against Bangladesh on 6 November 2023 during the 2023 ODI World Cup, Angelo Mathews got dismissed due to time out. ICC Law 40.1.1 states that 'After the fall of a wicket or the retirement of a batter, the incoming batter must, unless time has been called, be ready to receive the ball, or for the other batter to be ready to receive the next ball within 2 minutes of the dismissal or retirement.' After Sadeera Samarawickrama got out, Angelo Mathews came into the ground; however, when he was tightening the strap of his helmet, it broke off which forced Mathews to seek a replacement helmet.
Bangladeshi cricketer Najmul Hossain Shanto talked about the timing delay with his captain Shakib Al Hasan who then approached the umpire and appealed to give Mathews out. Umpires Marais Erasmus and Richard Illingworth were initially shocked at Shakib's appeal; however, they later gave Mathews out following which he left the field. This incident made cricket fans angry, and they said that this was a disgrace to the gentlemen's spirit of the game.
Mathews later shared a video showing there were still 5 seconds left when he was given out and demanded justice. This incident was also made into a meme by traffic departments of various Indian police departments to promote the importance of helmets.
Awards, Honours, Achievements
Prince of Wales Trophy in 2006
Became the youngest Sri Lanka test captain in February 2013
Named as Captain of ICC Test Team of the Year of 2014
Most Successful ODI captain of 2014 (62.50 win percentage)
Named in the Cricbuzz XI of the Year in 2014
Wisden Cricketer of the Year in 2015
Cricketer of the Year Award by Sri Lanka Cricket in 2015
ICC Men's Player of the Month for May 2022
Became 6th Sri Lankan cricketer to play 100 tests (in 2022)
Third Sri Lankan cricketer to score 7000 test runs (in 2023)
Net Worth
Mathews' net worth for the financial year 2023-24 was estimated to be $5 million (Rs 41.6 crores). It excludes the net worth of his wife and dependents (minors).
Favourites
Food(s): Chicken, Sri Lankan Samosa
Cricketer: Garfield Sobers
Facts/Trivia
His batting style is right-handed, and his bowling style is right-arm medium pace. He plays in the middle order as an all-rounder.
He is fondly called by his nicknames Angie, Ang, Kaluwa, and Superman. During his college days, he was nicknamed Jocka as he used to wear his underwear over his tights.
He often eats different types of non-vegetarian food such as fish and chicken to fulfill his nutritional needs.
On 31 August 2016, he was batting against Australia in Dambulla, when a bouncer by Scott Boland hit his helmet and broke its protective strap following which he was seen rubbing the back of his head before physio Paul Klarenaar checked for a probable injury.
On the 4th day of the first test against New Zealand in 2018, he did ten pushups and flexed his biceps after completing his century which surprised his father and fans.
In 2021, Angelo Mathews started a fundraising campaign for Lady Ridgeway Children's Hospital in Colombo under the Little Hearts Project and raised around $3.5 million. He also walked the ramp in a fashion show to raise awareness about the project.
He likes spending time on beaches.
He often plays golf and billiards during his free time.
He is a dog lover and owns a dog named Abby.
He often works out in the gym to maintain his fitness.