Anbumani Ramadoss is an Indian politician and a member of the Pattali Makkal Katchi (PMK) party, an ally of NDA (National Democratic Alliance). He served as the Union Minister of Health and Family Welfare from 2004 to 2009 in the Manmohan Singh government.
Wiki/Biography
Anbumani Ramadoss was born on Wednesday, 9 October 1968 (age 55 years; as of 2023) in Puducherry, India. His zodiac sign is Libra. In 1984, he completed his 10th standard at Montfort Boys Higher Secondary School, Yercaud. In 1986, he completed his 12th standard at St. Ann's Higher Secondary School, Tindivanam. He then pursued an MBBS degree at Madras Medical College, Chennai, Tamil Nadu. In 2003, he attended a course on the 'Introductory Macroeconomics,' at the London School of Economics (L.S.E.).
Physical Appearance
Height (approx.): 5′ 9″
Hair Colour: Black
Eye Colour: Black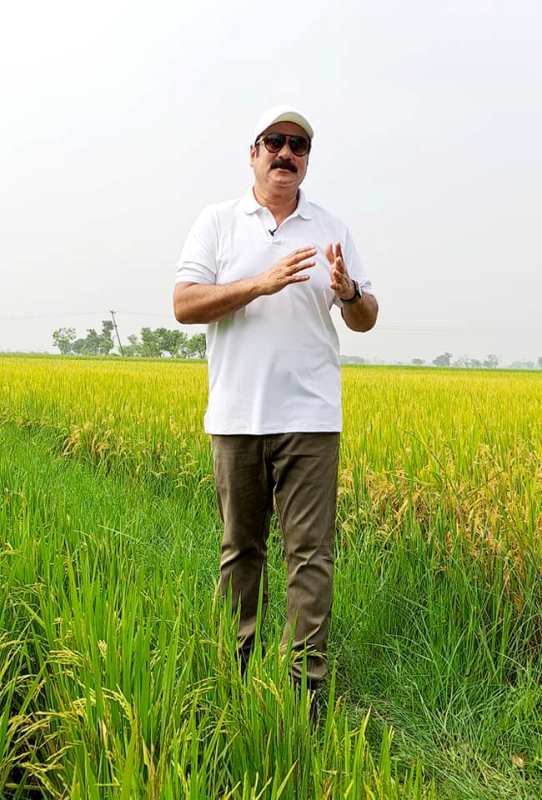 Family
Anbumani Ramadoss belongs to a Vanniyar family in Chennai, Tamil Nadu.
Parents 
Anbumani Ramadoss's father, S. Ramadoss, is an Indian politician and the founder of the Pattali Makkal Katchi party. Anbumani Ramadoss's mother's name is R. Saraswathi.
Wife & Children
In 1991, Anbumani Ramadoss got married to Sowmiya Anbumani, the managing director of 'Makkal TV' and an environmental activist.
They have three daughters, Samyuktha Ramadoss, Sanjuthra Ramadoss, and Sangamithra Ramadoss.
Religion/Religious Views
Anbumani Ramadoss follows Hinduism.
Had dharshan at #ThirumalaTirupathi on our #Anniversary .
எங்கள் திருமணநாளில் #திருமலை திருப்பதியில் தரிசனம். pic.twitter.com/reKY6cUf3P

— Dr ANBUMANI RAMADOSS (@draramadoss) August 28, 2017
Address
10, Thilak Street, T Nagar, Chennai-600017, Tamil Nadu
Signature
Career
After his graduation, he worked as a doctor at the town's government hospital in Nallalam, a small village near Tindivanam. He quit his job as a medical practitioner after working for a year and a half. Later he joined the Pattali Makkal Katchi (PMK), a political party in Tamil Nadu founded by his father in 1989, and became the party Youth Wing president. In 2004, Anbumani Ramadoss became a Member of the Rajya Sabha on a ticket of the Pattali Makkal Katchi (PMK) as a part of the UPA. On 22 May 2004, Anbumani became the Union Minister of Health and Family Welfare in Manmohan Singh's government. He held the office till 29 March 2009.
In 2005, the National Rural Health Mission (NRHM), a sub-mission under the National Health Mission (NHM) was established under the chairpersonship of Anbumani Ramdoss. Its objective was to improve the access and availability to quality health care by people, especially for those residing in rural areas, the poor, women and children. Jeffrey Sachs, head of the International Advisory Panel (IAP) praised the National Rural Health Mission (NRHM) and advised several governments and UN bodies to replicate the NRHM in other nations, especially poor ones in Africa. He contested the 2014 Lok Sabha election from the Dharmapuri constituency on a ticket of the PMK as a part of the NDA and won by a margin of 77,146 votes. He has been a member of the following Lok Sabha committees:
Member of Standing Committee on Rural Development
Member of Consultative Committee
Member of Committee on Absence of Members from the Sittings of the House
In 2016, he contested the Tamil Nadu Legislative Assembly election from the Pennagaram constituency. He was declared as the Chief Ministerial Candidate from PMK. However, he lost the election to Inbasekaran. P.N.P. of the DMK party. In 2019, he contested the Lok Sabha election from the Dharmapuri constituency on a ticket of the PMK but lost by a margin of 70,753 votes. On 11 July 2019, Anbumani Ramadoss was elected as a Member of Parliament in the biennial elections to the Rajya Sabha from Tamil Nadu. On 28 May 2022, he became the President of the Pattali Makkal Katchi (PMK) party.
Controversies
Unconventional removal of AIIMS director
In 2006, the Union Minister of Health and Family Welfare 'Anbumani Ramadoss' dismissed the director of the All India Institute of Medical Sciences (AIIMS) 'Dr P. Venugopal,' one of the country's foremost cardiologists. He alleged that Dr. P. Venugopal had violated the conduct rules of a government employee by publicly accusing the Government of interfering in the functioning of AIIMS. Dr. P. Venugopal was removed even before the commission set up by the government could look into the matter and give its verdict.
Arrest for hate speech
In May 2013, Anbumani Ramadoss was arrested in Chennai by the Kancheepuram police in an old case. He was charged for a hate speech case filed against him in 2012. On 25 April 2012, PMK's cadre allegedly set fire to ten Dalit houses at Marakannam. However, PMK denied these allegations. PMK's workers set at least 3 buses on fire and damaged over 100 government buses after the arrest of their leader in 2013.
Charged for inciting caste enmity
In 2014, Anbumani Ramadoss was charged for allegedly attempting to incite people on caste lines. Anbumani and his supporters distributed CDs while campaigning across the Dharmapuri constituency. These CDs were aimed at reminding the Vanniyar community of Marakkanam violence, and the controversial inter-caste marriage of a Vanniyar girl with a Dalit youth. A case under IPC sections that is related to offences promoting enmity between different groups, issuing statements conducing to public mischief, and violating the Model Code of Conduct, was registered against Ramadoss.
Corruption case
In 2014, Anbumani Ramadoss along with four other people was accused of misusing his power and showing favours to Rohilkhand Medical College and Hospital (RMCH) in granting renewal for admissions in the MBBS course for the year 2008-09. In 2012, he was involved in a similar case where he permitted the Index Medical College and Research Centre (IMCHRC), Indore to go ahead with admissions without having sufficient faculty and clinical material.
Arrested for Violent Protests
In July 2023, Anbumani Ramadoss and his supporters were detained by the police after a protest at Neyveli, Tamil Nadu turned violent, and some PMK party workers allegedly pelted stones at the police. Ramadoss delivered a speech demanding that the NLC (Neyveli Lignite Corporation) stop acquiring lands of farmers to expand their mine projects.
Awards and Honours
On 14 July 2006, Union Health Minister, Dr. Anbumani Ramadoss received the 'Luther L Terry Award' of the American Cancer Society for International Tobacco Control efforts at The Washington Convention Center Ballroom, USA.
In August 2007, Rotary International presented the Polio Eradication Champion award to Anbumani Ramadoss. Under his ministry, India was successful in declining type 1 polio and supported various polio eradication activities.
On 20 July 2007, Anbumani Ramadoss was presented with the WHO Director-General's Special Award for Tobacco Control by the Regional Director, Dr. Samlee Plianbangchang.
Assets/Properties
Movable assets
Cash: Rs 1,82,000
Bank deposits: Rs 2,12,20,684
Shares: Rs 5,39,62,228
Immovable assets
Agricultural land: Rs 5,77,76,579
Non-Agricultural Land: Rs 16,59,80,440
Commercial Buildings: Rs 30,00,000
Residential Buildings: Rs 70,00,000
Note: The given estimates are according to the year 2019. It excludes the assets owned by his wife and dependents (minor).
Facts/Trivia
In 2004, Anbumani Ramadoss was the youngest minister inducted into Manmohan Singh's cabinet.
He set up various institutions like the Public Health Foundation of India (2006), the Food Safety and Standards Authority of India (2006), the Department of Health Research (2007), and the National Institute of Communicable Diseases (2008).
He promoted the idea of a National Alcohol Policy for the first time in India and recommended that 2nd October, Gandhi Jayanti be observed as a "Dry Day."
In 2008, he enforced the ban on smoking in public places.
In 2019, Anbumani Ramadoss had the worst attendance in parliament. He participated in only two debates and did not pose any questions.
In 2021, Anbumani Ramadoss and the Vanniyar Sangam alleged that the movie 'Jai Bhim' insulted the Vanniyar community.
During his tenure as the Union Minister of Health and Family Welfare, the helpline number '108' for Ambulance Service was launched.
He is the President of the Tamil Nadu Badminton Association.
As President of Tamilnadu Badminton Association, I am happy to inform that two TN Badminton players namely Sankar Muthusamy and Satish Kumar have been selected under the GOI's new #TOPS Junior Sponsor Program for 'Mission Olympic Cell' 2028.#Olympics2028 #Badminton pic.twitter.com/IqXjfcg2rn

— Dr ANBUMANI RAMADOSS (@draramadoss) August 7, 2020
He is the founder of Makkal TV, a Tamil-language TV channel. It was launched on 6 September 2006.
Anbumani Ramadoss heads the NGO 'Pasumai Thaayagam.' It works towards the preservation of the environment, and achieving ecologically sustainable development. In 2005, it received special consultative status with the United Nations. In 2015, Anbumani voiced the concern of Sri Lankan Tamils at UNHRC (United Nations Human Rights Council) through the Pasumai Thayagam Foundation.