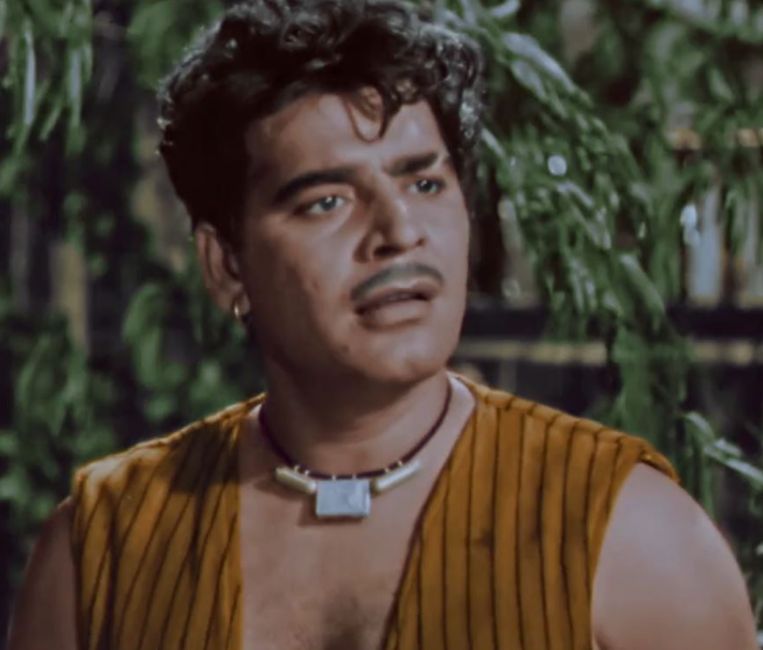 Ajit Khan (1922-1998) was an Indian actor. He is well-known for playing the lead in films such as Beqasoor (1950), Nastik (1954), Marine Drive (1955), and Mehndi (1958). Ajit Khan usually played a gang leader or a sophisticated yet heartless villain. He is credited to have played the most notorious villains in Bollywood with his intimidating voice. Ajit Khan passed away on 22 October 1998 due to cardiac arrest.
Wiki/Biography
Ajit Khan was born Hamid Ali Khan, on Friday, 27 January 1922 (age 76 years; at the time of death) in Golconda, Hyderabad State, British India (currently Hyderabad, Telangana). His zodiac sign is Aquarius. Ajit Khan's early education took place in Warangal. He then studied at the Govt. Junior College, Hanamkonda, Warangal. Ajit Khan reportedly ran away from home to pursue his dreams of being an actor and sold his books to travel to Mumbai. Upon arriving in Mumbai, he had no place to live and spent his days in a cement pipe. Upon being hassled to pay for the makeshift quarters, he put on a menacing personality, overthrew the goons physically, and came to be known as the don of the area. He didn't have to pay for the cement pipe and was given food free of cost.
Physical Appearance
Height (approx.): 5′ 11″
Weight (approx.): 80kg
Hair Colour: Black
Eye Colour: Black
Family
Ajit Khan belongs to a Deccani Muslim family. The family was part of the Barozai clan of Pashtuns. Ajit's ancestors came from Kandahar, Afghanistan, and they first moved to Shahjahanpur in Uttar Pradesh before finally settling in Hyderabad.
Parents & Siblings
His father, Bashir Ali Khan (deceased) was a part of the Nizam's army. His mother, Sultan Jehan Begum (deceased) was a mother to four children. Ajit Khan had two sisters and a younger brother named Wahid Ali Khan.
Wife & Children
Ajit had three marriages. His first wife, Gwen D'Monte, was Anglo-Indian and Christian, and they married after a short love affair. However, their marriage didn't last long due to significant cultural differences, and they had no children together. For his second marriage, Ajit married Shahida, a young lady from his community and similar social background. Their parents arranged the marriage in the traditional Indian way. This marriage was very harmonious and lasted until Shahida's passing. They were blessed with three sons: Shahid Ali Khan, Zahid Ali Khan, and Abid Ali Khan.
Ajit's third marriage was with Sara/Sarah, and the actor Jayant (known as the father of actor Amjad Khan) was instrumental in this marriage. Ajit and his third wife had two more sons named Shehzad Khan and Arbaaz Khan, who are actors.
Religion/Religious Views
Ajit Khan followed Islamism.
Career
Film
Ajit faced challenges in connecting with people and getting accepted for projects. He worked as an "extra" in various films to support himself. Eventually, he got a big break and appeared in leading roles, initially using his real name, Hamid Khan. However, he didn't achieve much success. Following the advice of Nana Bhai Bhat, he adopted the screen name "Ajit," which means "indomitable." Still, his luck didn't change drastically. Although he starred in several films and gained popularity among the audience due to his distinctive baritone voice and impressive personality, he didn't do well at the box office. Ajit Khan started appearing in the movies Kurukshetra (1945), Beqasoor (1950) where he appeared as Brij and Saiyan (1951) where he played the role of Vijay.
As a hero, Ajit appeared in films like Dholak (1951) where he played the character of Manohar, Nastik (1953), Bara-Dari (1955), and Bada Bhai (1957). where he showcased commendable acting skills. However, he later transitioned to second-lead roles in films like Naya Daur and Mughal-e-Azam. Ajit made a switch to play the role of a villain. He debuted as a villain in the movie Suraj (1966).
Later he appeared in films like Zanjeer (1973) where he played the role of Teja the Don and received kudos for his performance, and Yaadon Ki Baaraat (1973), and Kalicharan (1976) in which he delivered the iconic dialogue "Sara Shehar Mujhe LION Ke Naam Se Janta Hai", showcasing his talent for portraying negative characters.
Director Prakash Mehra stated that Ajit Khan revolutionised villains in Bollywood. Ajit was of the opinion that there were too many loud-mouthed villains, which is why he created his brand of villains who were suave and soft-spoken. At a point in his career, he was being paid more to play the villain than the heroes of the film.
Death
Ajit Khan passed away on 22 October 1998 at the age of 76 due to a cardiac arrest in Hyderabad, Andhra Pradesh (presently Hyderabad, Telangana). The deterioration of his health began after bypass surgery in 1981, ultimately passing away due to a fatal heart attack.
Facts/Trivia
Ajit was very good friends with veteran actor Rajendra Kumar and acknowledged his crucial role in advising and supporting him to transition into a "leading villain" instead of remaining a second-lead hero. It was Rajendra Kumar who played a significant part in securing Ajit's first role as a villain in the movie Suraj (1966).
Ajit Khan is known as the 'Lion' of Bollywood credited to his dialogue delivery and fierce performance as a villain.
His most well-known dialogues are "Mona Darling" and "Lilly don't be silly".
Ajit Khan used to smoke one or two packets of Dunhill cigarettes a day.
Ajit Khan spent the last 18 years of his life farming and reading.
Following Nana Bhai Bhat's advice, Hamid Ali Khan decided to adopt the screen name "Ajit," which signifies "indomitable." However, despite the name change, his luck didn't significantly improve. Later, film director K. Amarnath, who worked with him in Beqasoor, recommended that the actor opts for a shorter name. After considering options, Hamid settled on "Ajit" as his chosen screen name.
If producers weren't able to pay Ajit Khan the full amount due to him, Ajit would take whatever the producer had at hand and never follow up about the rest of the money owed.
After the villain characters that he played reached fame, there were several spoofs of the characters and Ajit Khan's acting style. His son Shehzad Khan portrayed his father's villainous characters in a comical light as well.
Iqbal Rizvi wrote a biography of Ajit Khan named 'Ajit the Lion: Biography of Ajit Khan – A Legend of Indian Cinema'.