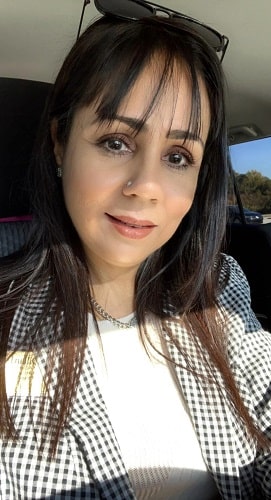 Aisha Pirani is an American business manager, who hails from Pakistan. She is the alleged wife of the Indian TV actor Cezanne Khan. In 2023, she filed domestic violence and extortion cases against Cezanne.
Wiki/Biography
Aisha K. Pirani aka Aisha Merchant was born on Tuesday, 6 February 1973 (age 50 years; as of 2022) in Karachi, Pakistan. Her zodiac sign is Aquarius.
She studied economics at St. Lawrence College, US.
Physical Appearance
Height (approx.): 5′ 6″
Hair Colour: Brown
Eye Colour: Brown
Family
Aisha belongs to a Muslim family.
Parents & Siblings
Her father's name is K. Pirani. She has two sisters.
Husband & Children
In an interview, she said that before getting married to the Indian TV actor Cezanne Khan on 19 March 2015, they dated for a few years.
To support her claims, she even shared the marriage certificate and photos of her court marriage with Cezanne.
In 2021, she came into the media to reveal her marriage with Cezanne after she came to know that he was getting married to some other woman in Mumbai. However, when Cezanne was asked about it, he denied being married and said that he never got married to Aisha and described her as an obsessed fan and emphasized that discussing such individuals was not important. According to him, she was using him to seek attention and publicity. He clarified that he knew her because she was the sister of his cousin's wife who resides in Karachi. He also mentioned that he has no knowledge of any marriage certificate. Khan further claimed that she distorts and changes a lot of information. Upset with Cezanne's statements and rumours of him dating an Indian girl named Afsheen Khan, Aisha filed an FIR in India against him in 2023.
In her complaint, she said that her husband raised his hand to her and demanded money from her. In an interview, Pirani said that she wanted to legally end her marriage according to the laws of her religion Islam. She also added that Khan tricked her and used her to get a Green Card, and she accused him of taking all her money. According to her, from 2013 to 2016, she worked while her husband Khan stayed at home and relied on her financial support. She shared that he used her credit card to pay his expenses. She overlooked his spending habits and even disrespected her in front of their children. When she visited Mumbai in 2016, Khan refused to let her enter her own home. His repeated excuses for not meeting her raised her suspicion, and she discovered from Khan's friends that he was deceiving her. She also shared that he used to physically assault her and confine her to a room so he could communicate with girls over Skype. He then told her that his mother wanted him to marry a younger woman, even though they were both 50 years old. As a result, he kept their marriage a secret and deceived her into signing divorce papers without her knowledge. However, according to Muslim law, she was still considered married. Furthermore, she desired to retrieve the money she spent on him and receive compensation for the difficulties she has endured because of him. She even asked him for a legal divorce known as 'khulanama' in Islam. She further revealed that he was a con man and had two fake birth certificates. She stated that her demand from him was only Rs 8 lakh, but she had actually spent much more than that. She even mentioned that Khan has a friend who is involved in a similar fraudulent activity.  Pirani's lawyer has lodged a complaint at the Versova police station against Cezanne, accusing him of defaming a woman, domestic violence, and financial fraudulence. According to Aisha, she has two sons with Cezanne. Her elder son's name is Maaz.
Signature
Career
On 20 May 2016, she joined the department store Dillard's at Arbor Place Mall in Douglasville, Georgia, as a fragrance business manager.
Facts/Trivia
Her family and friends lovingly call her Ash.
She is an avid animal lover and has posted various pictures with dogs on her Facebook account.
Aisha Pirani owns a Toyota car.
In her leisure time, she loves travelling, shopping, cooking, watching television, and listening to music.