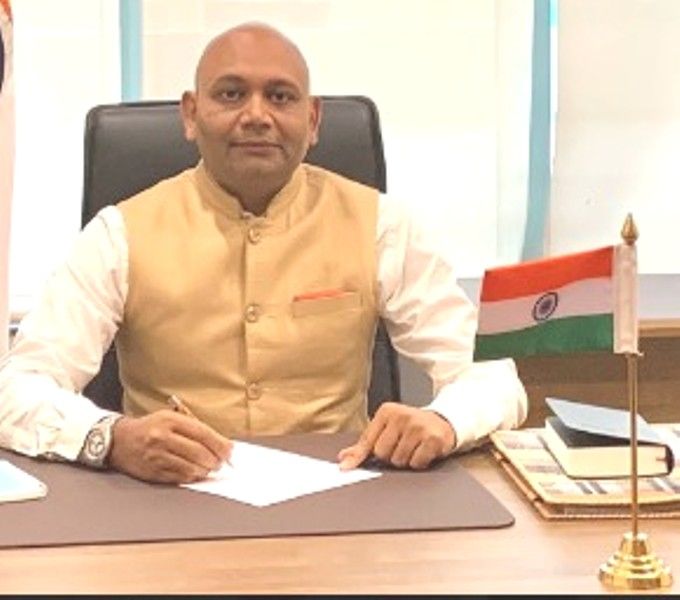 Abhay Kumar is an Indian poet-diplomat. He joined the Indian Foreign Service in 2003 and has served as the Indian ambassador to Madagascar and Comoros. He has been recognized for his poetry, including an Earth Anthem that was played at the United Nations on the 50th Earth Day. He also wrote a song for ISRO's (Indian Space Research Organisation) Chandrayaan-2 mission and for all the planets in the solar system.
Wiki/Biography
Abhay Kumar was born in 1980 (43 years old; as of 2023) in Bhattu Bigha village near Rajgir in the Nalanda district, Bihar. When he was 2 years old, his family moved to Chhabilapur village in Nalanda district of Bihar. He completed his school education at R.D.H. School Rajgir, Bihar and then pursued a Bachelor of Arts in Geography at Kirori Mal College Delhi, from 1997 to 2000. From 2000 to 2003, he attended the Jawaharlal Nehru University Delhi, where he pursued a Master of Arts and M.Phil in Geography and Population Studies. In 2006, he learnt the Russian language at Lomonosov Moscow State University (MSU) and in 2011, he studied  U.S. Foreign Policy at Elliot School of International Affairs, George Washington University. He also studied Nepali at Tribhuvan University and a diplomacy module at the Fletcher School of Law and Diplomacy USA.
Physical Appearance
Height (approx.): 5′ 5″
Weight (approx.): 60 kg
Hair Colour: Bald
Eye Colour: Black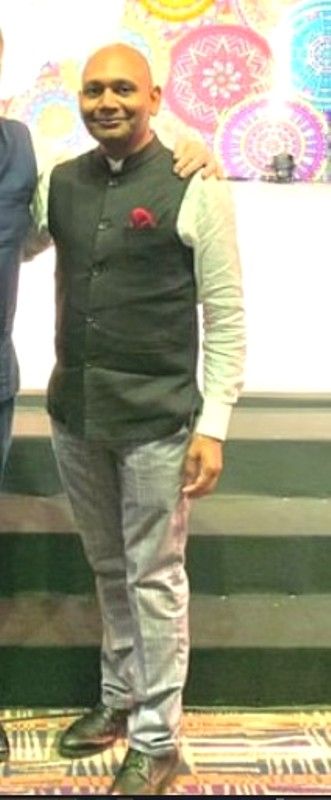 Family
Parents & Siblings
Abhay's father's name is Rajendra Singh and his mother's is Dayawanti. His father was a school teacher who passed away in 2006, and his mother is a homemaker.
Abhay has an elder brother named Ajay who works in the IT sector in the USA.
Wife & Children
There is not much information about Abhay's marital status.
Career
Diplomat
Abhay Kumar passed the Indian Foreign Service (IFS) exam in 2003, securing the 71st rank. He started his training at the Lal Bahadur Shastri National Academy of Administration (LBSNAA) in Mussoorie in September 2003. He then moved to the Foreign Service Institute (FSI) in New Delhi in January 2004 for further training. He trained at FSI for a year, and then worked as a desk officer at the Ministry of External Affairs (MEA) for six months, dealing with East and South Africa divisions.
In 2005, he went to Moscow to learn Russian at the Moscow State University (MSU). He also worked at the economic and commercial wing of the Indian Embassy in Moscow till 2007. He passed the Russian language test conducted by the School of Foreign Languages, Ministry of Defence, India, and became the Second Secretary (Commerce) at the Embassy. His job involved handling trade issues, organizing business events, facilitating trade delegations, and preparing economic reports. He worked as a Consul in St. Petersburg from 2007 to 2010, and as an Under Secretary of Digital Diplomacy in Delhi from 2010 to 2012.
He was the spokesperson of the Indian Embassy in Kathmandu from 2012 to 2015, and the Deputy Chief of Mission to Brazil from 2016 to 2019. He was the Ambassador of India to Madagascar and Comoros from 2019 to 2022, where he made the Indian Embassy solar-powered and opened a Street Library.   On 19 September 2022, he was appointed Deputy Director General of the Indian Council of Cultural Relations (ICCR) responsible for cultural events during India's presidency of G-20 from December 2022 to November 2023.
Writer
His first book, 'River Valley to Silicon Valley,' is a memoir published in 2007. He wrote two nonfiction books on spirituality titled '10 Questions of the Soul' (2010) and 'Colours of Soul' (2011). He is known for his poetry collections, such as Enigmatic Love (2009), Fallen Leaves of Autumn (2010), Remains (2012), The Seduction of Delhi (2014), The Magic of Madagascar (2021), Stray Poems (2022), and Celestial (2023). He also published many poems in various journals and anthologies.
Editor
Abhay has edited several poetry collections, including 'Anthology of Contemporary Indian English Poetry' (2016), 'Capitals' (2017), '100 Great Indian Poems' (2017), 'New Brazilian Poems' (2019), 'The Bloomsbury Book of Great Indian Love Poems' (2020), and 'The Book of Bihari Literature' (2022).
Translator
He translated two works by Kalidas, a classical Sanskrit poet, into English in 2021. They are Meghaduta, a lyrical poem about a cloud messenger, and Ritusamhara, a collection of verses about the six seasons. He also translated the poems of 60 Brazilian poets into English.
Lyricist
In 2013, Abhay wrote Earth Anthem, a song for the planet that was translated into 8 languages, including 6 UN (United Nations) languages, Hindi, and Nepali. Shreya Sotang, a Nepali singer, sang the English version of the song. It has been translated into over 150 languages. In 2021, to mark the 51st Earth Day, over 100 artists came together to read it. Abhay also wrote anthems for SAARC (South Asian Association for Regional Cooperation), Chandrayan-2, and all other planets of the solar system.
Artist
Abhay's artwork is centred around the theme of planetary consciousness. He has exhibited his paintings in cities such as St. Petersburg, Paris, New Delhi, and Brasilia.
In New Delhi, his poetry paintings were displayed alongside those of Italian artist Tarshito at the National Academy of Art, showcasing Delhi's rich history.
Awards, Honours, Achievements
1st Prize by the Amity School of Business, Noida, for the case study Digital Revolution and Business at the 8th Renvoi, an International Management Case Study Competition
SAARC (South Asian Association for Regional Cooperation) Literary Award 2013 for his contribution to contemporary South Asian poetry
Asia-Pacific Excellence Award 2014
Kalinga Literary Festival 2020-2021 Poetry Book of the Year Award for the translation of Kalidasa's Meghaduta and Ritusamhara
KLF (Kalinga Literary Festival) Book Award 2022 for The Book of Bihari Literature
Favourites
Food: Street Food, Litti-Chokha, Corncob
Musician: Ustad Bismillah Khan
Facts/Trivia
Abhay's grandfather was a local wrestler.
He participated in the 19th World Universities Debating Championship in Manila, Philippines, in 1998. He was a student at Kirorimal College Delhi at that time. He represented his college and India in the international debating competition.
Abhay, at the age of 22, taught Geography at a coaching institute called IDP9 in Delhi before he cleared the UPSC CSE (Union Public Service Commission Civil Service Examination).
He initiated the celebration of Indian Foreign Service Day on 9 October 2011.
He was nominated for the Pushcart Prize in 2013 for his contribution to South Asian poetry.
His book 'The Seduction of Delhi' was shortlisted for the Muse India-Satish Verma Young Writer Award 2015
He proposed celebrating the International Day of Diplomats on the UN (United Nations) Day, which was first observed in Brasilia on 24 October 2017 with diplomats from many countries participating.
He has been called a 'World Poet' by Pulitzer Prize-winning poet Vijay Seshadri.
In 2019, Abhay Kumar became the youngest ambassador to be appointed to an Indian embassy at the age of 38.
In 2022, he appeared on the podcast, The Literary City with Ramjee Chandran, to talk about his career as a poet-diplomat.
Abhay is the first Indian poet who was invited to record his poems at the Library of Congress, the National Library of the USA.
He is a polyglot (a person who speaks many languages). He speaks Magahi, Hindi, English, Russian, Nepali, and Portuguese, and knows French and Sanskrit.
Abhay Kumar's poem 'The Partitioned Land' was included in the curriculum at Cornell University in the fall of 2021.
His book-length poem 'Monsoon' explores the impact of climate change on India. It is one of the three books selected by Sarah Dimick, an assistant professor at Harvard University, for her book project on Climate and Literature. The other two books are by Amitav Ghosh, a renowned Indian writer.
Abhay Kumar's poetry has been the subject of academic research. Amit Dhawan received a PhD from Maharaja Ganga Singh University, Bikaner, Rajasthan, India in 2017 for his research paper on 'Cultural Construct of Self: A Critical Study of Abhay Kumar's Poetry'. Sapna Dogra, an academician, compared Abhay's poem 'Yamuna' with A.K. Ramanujan's poem 'A River' in a research paper.
Abhay Kumar enjoys photography, travelling, and cooking in his free time.
He maintains his physical and mental health by following a regular exercise routine and practising meditation.