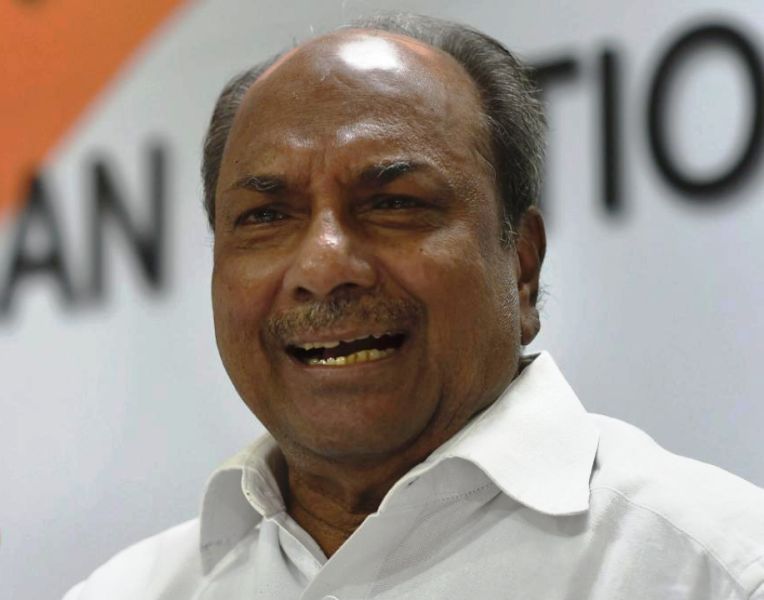 A. K. Antony is an Indian politician and member of the Indian National Congress (INC) who served as the 23rd Defence Minister of India; he held the position for almost 8 years making him the longest-serving Defence Minister in India. He was a Member of Parliament in the Rajya Sabha from Kerala for five terms between 1985 and 2022. He has thrice served as the Chief Minister of Kerala (1977-1978, 1995-1996, 2001-2004). Apart from that, he has served as the Chairman of the Disciplinary Action Committee of the All India Congress Committee (AICC), a member of the Congress Core Group, and Treasurer of the AICC.
Wiki/Biography
Arackaparambil Kurian Antony was born on 28 December 1940 (age 82 years; as of 2022) in Cherthala, Travancore, British India (now Cherthala, Kerala, India). After receiving his primary education from Holy Family Boys High School, he attended Government Boys High school, Cherthala. Following his father's death in 1959, he pursued various did many odd jobs to support his education. Later, he pursued a Bachelor of Arts from Maharaja's College, Ernakulam and a Bachelor of Law from Government Law College, Ernakulam.
Physical Appearance
Height (approx.): 5′ 4″
Hair Colour: Black (half-bald)
Eye Colour: Black
Family
A. K. Antony was born into a Syrian Christian family.
Parents & Siblings
A. K. Antony's father's name is Arackaparambil Kurien Pillai; he passed away in 1959. His mother's name is Aleykutty Kurian (deceased). His elder brother's name is A. K. Thomas.
Wife & Children
He is married to Elizabeth Antony, a Kerala High Court lawyer. Previously, she was an officer at Canara Bank. She is also the founder of the Navoothan Charitable Foundation. Together, they have two sons. His son Anil Antony is an Indian tech entrepreneur and politician, who is a former member of the Indian National Congress (INC). His son Ajith Paul Antony is an actor; he made his debut as a lead with the multilingual crime film Oberoi (2014).
Religious Views
A. K. Antony is a self-proclaimed atheist. He is known for advocating the philosophies of Sree Narayana Guru, a spiritual leader and social reformer who led a movement against injustice in the caste-ridden society of Kerala.
Address
His permanent address is 'Anjanam', Easwara Vilasam Road, Thiruvananthapuram, Pincode: 695014, Kerala.
Signature/Autograph
Career
Early Politics 
His association with Congress began when he was a student leader in Cherthala Taluk as an activist of the Kerala Students Union (KSU), the student wing of the INC in the state, under the guidance of MA John.  He was the Councillor of the School Union in 1956 and became the Secretary of the school union during 1957-58. While attending Maharajas College, Ernakulam, he was elected as General Secretary of the College Union in 1962. He became the Treasurer of the Kerala Students Union in the following year. He was the State President of KSU from 1964 to 1966. In 1966, after completing his law degree, he assumed the leadership of the Pradesh Youth Congress Committee when he was elected as its President; he continued to serve in this capacity till 1969. Before he became the General Secretary of the AICC in 1984, he was associated with KPCC. In 1972, AK Antony became the youngest-ever president of the KPCC at the age of 32. He was elected again as KPCC president in 1987. He was defeated by Vayalar Ravi in the KPCC presidential elections in 1991. An ardent supporter of the Nehruvian socialist ideals, Antony used to organise various agitations for the common cause during his college days. He went on a hunger march twice by foot from Kasaragod to Thiruvananthapuram. Once, while participating in a fishermen's agitation at Veluthulli near Cherthala, he was seriously injured and hospitalized due to a police lathi charge. He has held many important political assignments such as President of Kerala Pradesh Youth Congress Committee, President and General Secretary of the KPCC, and Member of Congress Working Committee. He was elected to the CWC in 1991 with the second-highest number of votes.
Kerala Legislative Assembly
In the 1970 Kerala Legislative Assembly elections, Antony contested and won the Cherthala Assembly constituency, defeating the CPM candidate N. P. Thandar. Although the assembly completed its term by 1975, it was extended on three occasions during the Emergency. In 1977, K. Karunakaran of Congress was sworn in as the Chief Minister of Kerala. However, Karunakaran had to resign within a month due to the controversial Rajan case. P. Rajan was a left-leaning engineering student, who was tortured during the Emergency when Karunakaran was serving as the Home Minister. Consequently, on 27 April 1977, A.K. Antony was sworn in as the CM of Kerala; he was elected as an MLA from the Kazhakoottam assembly constituency in by-elections to fulfil his role as CM. At the age of 37, he became Kerala's youngest chief minister ever.
In the late 1970s, Antony was one of the most vociferous opponents of Indira Gandhi as he criticised the use of Emergency powers and the rise of the "Sanjay wave." When Congress split in around 1978-79, Karunakaran joined the Indira Gandhi-led Congress (I), while A K Antony was a part of INC (U), a breakaway faction of the Congress formed by D. Devaraj Urs. Later, A. K. Antony split from Congress (U) to form Congress (A) in Kerala. On 27 October 1978, Antony resigned as Chief Minister when his Congress faction decided to support Indira Gandhi in the Chickmagalur bye-election. CPI and Congress also drifted apart. Though the ruling alliance had won nearly 80% of seats in the election, it became unstable, and the assembly lasted less than 3 years.
Due to differences with the party, he formed his own party Congress (A) when he split from the INC (U), a splinter group of the INC. The party was primarily active in Kerala. Congress (A) joined the LDF ministry headed by CPI(M) leader E. K. Nayanar, who was sworn in as the Chief Minister of Kerala on 25 January 1980. However, with the entry of Rajiv Gandhi into politics, Antony's antipathy to Congress softened. Soon, he formed a friendship with Rajiv and abandoned Nayanar to return to the Congress fold. In October 1981, LDF lost their majority in the assembly when the Congress (A), the Kerala Congress (M) and the Janatha (Gopalan) withdrew support for the government to join the UDF leading to the fall of the Nayanar ministry. An eight-member ministry was formed on 28 December 1981, with K. Karunakaran of Indira-Congress at the helm. On 17 March 1982, the Karunakaran government resigned and the Assembly was dissolved. The state came under President's rule for the eighth time which led to an interim election in 1982. In the elections, the UDF government was formed with K. Karunakaran as CM in association with Congress (A) and various other parties. Later, Congress (A) merged with INC (I). However, when again Karunakaran resigned in connection with the ISRO case, Antony was sworn in as the CM of Kerala for the second time on 22 March 1995; he served in this capacity till 9 May 1996. He contested and won the Tirurangadi Assembly seat in 1995 by-elections to fulfil his role as CM.
In the 1996 Kerala Legislative Assembly elections, Antony contested and won the Cherthala Assembly constituency defeating the CPI candidate C. K. Chandrappan. He was the Leader of Opposition in Kerala Legislative Assembly from 20 May 1996 to 13 May 2001. In the 2001 Kerala Legislative Assembly elections, Antony contested and won the Cherthala Assembly constituency defeating the CPI candidate C. K. Chandrappan. Antony served a third term as CM of Kerala from 17 May 2001 to 29 August 2004 in the INC-led alliance UDF. Factional politics and in-fighting within the Congress Party led Congress in Kerala to suffer a total rout in the 2004 Lok Sabha elections. Consequently, Antony resigned as Chief Minister, and Oommen Chandy succeeded him.
Member of Parliament, Rajya Sabha
He spent 38 years in five stints in the Rajya Sabha, where his final tenure ended in 2022. He first became a Member of Parliament, Rajya Sabha in 1985. He served as the Minister for Civil Supplies, Consumer Affairs and Public Distribution for a year in 1994 during the tenure of Prime Minister P. V. Narasimha Rao. He resigned on moral grounds as food minister in 1994 when his ministry was involved in a sugar import scandal, although there were no allegations against him.
Minister of Defence
In 2005, Antony again entered the Rajya Sabha and took over the reins of the Defence Ministry on 26 October 2006 following a cabinet reshuffle by Prime Minister, Dr Manmohan Singh, after the then Defence Minister Pranab Mukherjee had to take over as the Foreign Minister as Natwar Singh lost his portfolio following the 'Oil for food scam.' Antony retained the portfolio of Defence after the 2009 general elections, becoming the longest-serving Defence Minister of India in a continuous stint for 8 years.
During his tenure, around 2011-12, the Defence Ministry sought an additional amount of 3,000 crores to meet its budgetary requirements for purchasing 126 fighter jets for the Indian Air Force (IAF), one of the biggest Defence deals. However, Antony's tenure as a defence minister saw numerous scams, crises, and unpreparedness, attracting immense criticism. The Armed Forces were hit by the Sukhna land scam, the Adarsh Housing Society Scam, and the age row of Army Chief General V K Singh, but the reticent minister refused to have a public debate on any of these issues and sought to act with restraint in these issues owing to the sensitivities involved. On 26 May 2014, he was succeeded by Arun Jaitley. On 3 April 2016, he was elected as a Member of Parliament, Rajya Sabha for the fifth time; his tenure ended on 2 April 2022. In the same year, he also announced that he had quit parliamentary politics.
Assets & Properties
Moveable Assets
Deposits in Banks: Rs. 30,48,503
Bonds, Debentures and Shares: Rs. Rs 35,750
LIC or other insurance Policies: Rs 70,772
Motor Vehicles: Rs 1,50,000
Other assets: Rs. 4,00,000
Immovable Assets
Agricultural Land: Rs 10,00,000
Residential Buildings: Rs 30,00,000
Note: The given estimates of moveable and immovable assets are as of 2016. It includes assets owned by his wife.
Net Worth
In 2016, his net worth was Rs. 80,00,025. It includes his wife's net worth.
Facts/Trivia
A. K. Antony is often referred to as 'St Antony' for his clean image. Unlike other politicians, who are occasionally accused of using public money to go on pleasure trips abroad, Antony did not make any foreign trips during his tenure as the 6th Chief Minister of Kerala though his cabinet colleagues travelled extensively. Additionally, he announced that he would not accept any award. However, he always welcomed cash, which he diverted to the chief minister's relief fund. Interestingly, he never refused a gift, but none of the gifts he got as chief minister travelled to his home. All of them were taken to the state museum, where a separate cupboard was set up to keep the gifts he received.
He suffers from spondylitis and takes 10 days off every year in the month of Karkidakam, (a period between July and August according to the Malayalam calendar), to undergo an ayurveda treatment for it.
A philanthropist, he founded the charitable organisation Vidyadhanam Trust, which works towards ensuring equitable outcomes for underprivileged children through education promotional activities. It has diversified charity projects such as Vidyadhanam and Vidyalekshmi (educational sponsorship), Vidyaposhanam-Poshakasamrudham (everyday nutritious mid-day meals), Vijnanaveedhi (providing students with quality motivational books), Ambilikku Oru Veedu (building affordable homes for the underprivileged and low-income families), and Meet the Great Achievers (offering students an opportunity to interact with men and women of eminence). As part of the Ambilikku Oru Veedu project, the Trust constructed a house for actress Molly Kannamaly in Chellanam. The trust also bestows the N.N. Sathyavrathan Memorial Award on outstanding media students in Kerala.
He can speak four different languages, Malayalam, English, Tamil, and Hindi.
He is the recipient of the Malayali of the Year award in 2007 instituted by Asianet.
Mr Antony edited a Malayalam Weekly Kalasala during 1964-65 and later a Malayalam Daily Veekshanam from 1978-1982.
Rahul Gandhi describes A.K. Antony as his "guru" in politics.
In 2017, he suffered from a minor brain haemorrhage after he fell inside his house.